Schechter Manhattan's Sliding Scale Tuition – Its Message and Mechanics
Our school community believes in the value of a Schechter Manhattan education for our students, their families, and the community. We believe that the tuition charged to provide that education should be set on a family-by-family basis with an eye to what a family can afford.
Schechter Manhattan's goal for you is this: that each Schechter Manhattan family will view the tuition that you pay as the tuition that you should pay and that at the end of the day, we know that you will be glad that you did.
Maximum Tuition by Grade and AGI
To provide you with tuition guidelines you may refer to, we have provided a chart showing the maximum tuition applicable to any student based upon that student's grade and the family's adjusted gross income. We want to stress that the tuition amounts shown are maximums.  There is no lower limit to the amount of tuition that a family might pay at any AGI level, as there are many factors that may impair a family's ability to pay.  One such factor, a happy one, will be when a family sends more than one child to our School.  We are thrilled to make appropriate financial arrangements in those cases.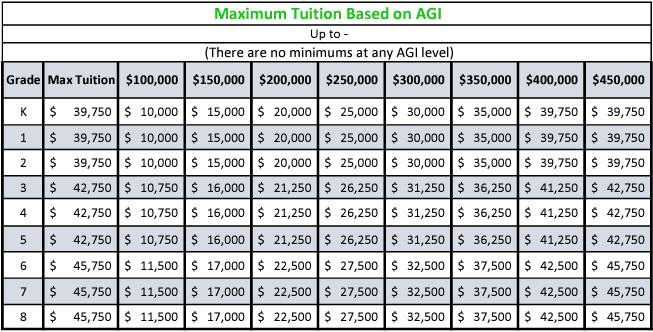 Sliding Scale Tuition Model 
To participate in the Sliding Scale Tuition Model, our families complete a Parents' Financial Statement (PFS) on TADS. After completing the PFS, you will be prompted to pay a $55 non-refundable application fee. After paying the application fee and submitting your PFS, the next step is to upload the required documents as listed in TADS, by January 12, 2023, into TADS. Once all of your documents are submitted, TADS provides Schechter Manhattan a recommendation of what a family could reasonably contribute toward tuition based on their individual income level and household type.
The sliding scale process is confidential and protects the anonymity of each family's financial situation.
Each application is reviewed by our Sliding Scale Committee, and a tuition amount is determined and communicated to the family.
Steps to apply for Sliding Scale Tuition:
Create a Family Portal Account on TADS and complete the Parent Financial Statement.
Pay the $55 non-refundable application fee.
Upload all required documents to TADS by the document deadlines.
If the Sliding Scale Committee requires additional information or clarification, Chris Aguero, Head of School, will reach out. If families have questions or concerns regarding the process, please email Chris at [email protected].
Confidently Invest in Your Child's Education.