Dear Friends of Schechter Manhattan,

We are excited to share the very happy news that the Board of Trustees has chosen Chris Agüero to be Schechter Manhattan's next Head of School, beginning on July 1, 2022.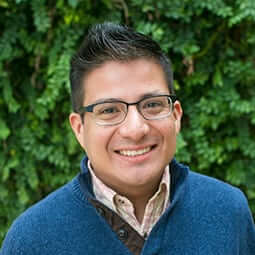 Chris comes to us from
Austin, Texas,
 where, since 2018, he has served as Head of School of the 
Austin Jewish Academy,
 a community Jewish day school. Like Schechter Manhattan, AJA is an 
educationally progressive learning
environment and a 
warm Jewish community.
 Under Chris's leadership, AJA negotiated the challenging 
constraints of the Covid era 
that we know so well, and he's leaving the school far stronger than he found it, 
increasing enrollment by 55%,
improving the
school's reputation
 in the community, and building strong relationships with 
community partners.

Chris is an exceptionally dynamic and energetic Jewish educator and an inspiring educational leader. A former elementary and middle school classroom teacher, he deeply understands and is committed to the child-centered education and active learning that make Schechter Manhattan such a special school. His colleagues from AJA and from his prior work at Ezra Academy in Connecticut testify to the way he builds collaborative teams, supports his faculty and staff, and forges strong connections with students and parents.

Chris's passion for joyful Judaism and Jewish education comes through as soon as you meet him, and he is an inspiring role model. He is a thoughtful, strategic, solution-oriented listener and communicator and a compassionate, caring, and respectful member of his community. We are excited to welcome him to the New York Jewish community, where we know the relationships he will build will be key to Schecher Manhattan's growth in the coming years.

The search process that led to Chris's hire embodied the Schechter Manhattan values of learning, reflection, and generosity. We are grateful to the members of the Head of School Search Working Group, in conjunction with Amy Wasser of Prizmah: Andrea Brustein (Trustee and parent 8, 5); Sally Gottesman (Vice President and parent 7, 5), Eli Kaminsky '08; Yossi Leon (parent, 6 and Gan 2022); Dr. Ray Levi (Director of Day School Leadership Training Institute at the Davidson School of the Jewish Theological Seminary); Allison Levine (Middle School science teacher and STEAM coordinator); Susan Lorin (Trustee Emerita and parent of three alumni); Hugh Pollack (founding and current Trustee); and Jessica Shpall Rosen (parent 3, Gan). Their hard work, wisdom, and commitment made this wonderful outcome possible.
During the interview process, 
Chris met with more than 70 members of the Schechter Manhattan community
, including teachers, staff, parents, board trustees, and other community members who are committed to the future of our excellent school. Thank you to everyone who took the time to meet Chris and share feedback. 
You can learn more about Chris here.

Chris's arrival comes at a time of opportunity for Schechter Manhattan, when our leadership transition and visioning forward are supported by multiple ongoing donors, including a significant anonymous donor. Thanks to their deep engagement, we are fortunate to have the financial resources necessary to advance our commitment to academic excellence and creative innovation and to move confidently into our second quarter-century.
We are grateful to 
Gary Pretsfelder and Chris Aguero,
 whose leadership as Co-Heads has been so central to the success of this school year, for their 
hard work, important guidance, and insights,
and we are glad that both will be continuing as part of Schechter Manhattan next year. As
Julie 
reaches the end of her four years chairing our Board of Trustees this summer, she
will be succeeded as President by Howard Rubin.
 In addition to Howard's many years of New York Jewish lay leadership — including at 
Town and Village Synagogue, Park Avenue Synagogue, UJA Federation of New York, Prozdor,
and the
Plaza Memorial Chapel
 — he has been a Schechter Manhattan trustee from the school's earliest years. He has worked closely with our 
prior Heads of School
 and has a strong understanding of Schechter Manhattan's mission, its promise, and also its challenges. 
Sally Gottesman, Ann Melinger, 
and 
Randy Feld,
 all three of whom are Schechter Manhattan parents as well as returning trustees, will join Howard as officers in 2022-23. 
Learn more about our officers here.
We will be sharing 
opportunities to meet Chris
 in the weeks leading up to his arrival. In particular, please mark your calendar for 
Schechter Manhattan's Gala 
on June 13, at 6 pm at the New York Academy of Medicine, when we'll have a chance to introduce Chris to our broader community and to celebrate this exciting moment.
With gratitude and excitement,

ANN MELINGER
Vice President, Board of Trustees
Chair, Head of School Search Process

JULIE R. SISSMAN
President, Board of Trustees Schechter Manhattan
Alumni Parent
https://www.schechtermanhattan.org/wp-content/uploads/2022/04/Screen-Shot-2022-04-29-at-1.33.00-PM.png
492
634
mimi
https://www.schechtermanhattan.org/wp-content/uploads/2021/11/schechter-manhattan-logo-2021.svg
mimi
2022-04-29 13:43:52
2022-04-29 14:43:40
Exciting Announcement – Next Head of School