Light One Candle for Schechter Manhattan!
Invest in our Children and our Future
It's Fantastic!  We met our goal of $200,000 – thank you to so many of you who made it happen! – and an anonymous donor has offered us $10,000 as a stretch Match goal!  Every dollar raised between now and December 31st will be matched up to $10,000.
Please help us meet our new stretch goal of $220,000.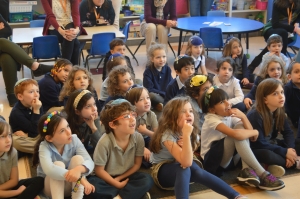 This week, as students and teachers take a break from the routine of
school, we gather around the *chanukiyah* each evening and light the
candles. We celebrate Chanukah by bringing light into our homes,
brightening the shortest days of the year.
*It is not too late!* From now until December 31st, your donation will be matched dollar for dollar.
Todah Rabah! תודה רבה
THIS MATCH WAS MADE POSSIBLE THROUGH THE GENEROSITY OF:
Anonymous
Sally Gottesman
Vivian and Daniel Bernstein
Eileen and Jerry Lieberman
Rachel Mann and Joshua Rosenblatt
Carol and Jon Rosenblatt
Julie Sissman and Philip Richter
Schechter Manhattan Alumni Parents