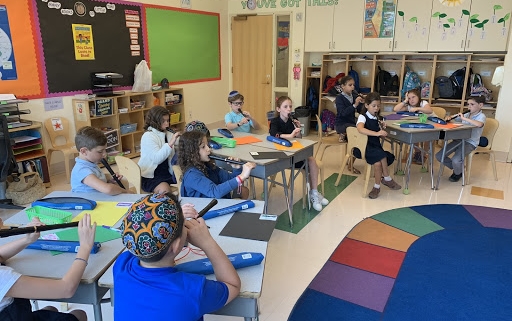 By: Sam Feldman-Greene and Maria Knourenko, Third Grade Teachers
The beginning of a new school year is a blank canvas. It is a time filled with anticipation, like the empty bulletin boards that await to be adorned with student work. Each September is a new opportunity for us, as educators, to contemplate anew how we want our classroom space to look and feel and to consider how our choices during the first few weeks of school will help shape learners that are thoughtful, resilient, and kind.
As a new teaching team this year, we sat down during teacher week to share our hopes for our students before the school year began. It quickly became clear that we were on the same page regarding our ideas about nurturing students' social and emotional health and creating a positive classroom culture. We both wanted our students to feel safe to give their best effort, knowing they will experience frustrations and will make mistakes along the way. We wanted them to feel proud to share their truths, skills, interests, knowledge and failures with others, and be able to move forward to reach even higher grounds with each others' support. As such, we spent the days leading up to the school year putting together a classroom space that would reflect the hopes we shared for our students.
The first thing one sees when walking towards our classroom is our door- a first impression, a welcome mat which sets the tone for students' classroom experience.  As they walk down the hall, our door greets them with the words "Sharing Our Similarities, Celebrating Our Differences." Surrounding these words are cutouts of hands which the students created themselves in the first week of school by picking from a variety of skin tone papers to find the one which best matched their own skin. As students of a Jewish school, a relatively homogenous environment by nature, finding commonalities with peers is not a difficult task. We are all Jewish. We all hear the shofar in school or at shul. We all say brachot together before and after a meal. On our door, we wanted their differences represented as strongly as their similarities. The range of tones, from pinks to beiges to browns, sends the message loud and clear: who you are is worthy of celebration.
The learning that has taken place in our classroom the first weeks of school has focused on creating a safe space in our classroom. After students shared their hopes and dreams for the year, we all sat together to think about the classroom environment necessary to bring these hopes and dreams into reality.  A set of four expectations organically came into place: Be Kind, Be Brave, Take Care of Materials and Space, and Take Turns Listening and Talking. These expectations are posted on the wall of the classroom and serve as the base from which we reflect on how our classroom community is doing.
These conversations about our community and culture will extend throughout  the school year. In the coming weeks and months, students will share their similarities and differences in how they celebrate the upcoming Jewish holidays.  They will draw connections and comparisons as they explore the various cultures that exist in New York City and the norms that come with them, through field trips to Harlem and Chinatown. And although we know that our students will inevitably go through the natural growing pains that come with learning and growing, we will be sure to continue to show them how much each of them are valued as members of our learning community.
https://www.schechtermanhattan.org/wp-content/uploads/2019/09/2ed10278-4f73-4fe0-94c7-9be7a3c6fb10.jpg
384
512
Kevin Sterling
https://www.schechtermanhattan.org/wp-content/uploads/2021/11/schechter-manhattan-logo-2021.svg
Kevin Sterling
2019-09-20 17:41:04
2019-09-23 17:41:28
Sharing Our Similarities, Celebrating Our Differences: Welcoming Kitah Gimmel