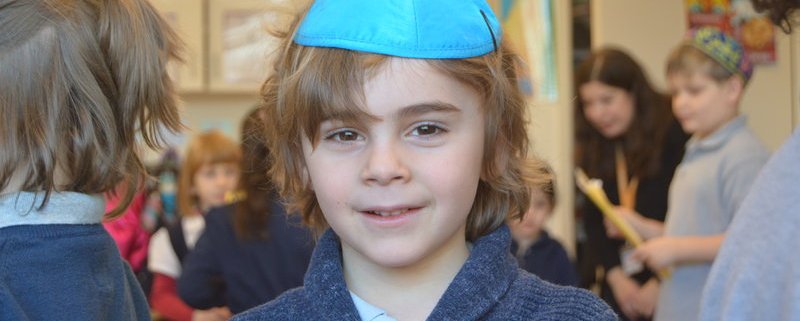 By Judy Ney, Director of Admissions
This week, the pleasure of hearing Chanukah songs in our hallways extended into the weekend and beyond our own students, as thirty preschool children and their families gathered on Sunday morning to sing along with our Head of School Ben Mann, at our Schechter Manhattan Chanukah Family Fun Day.  Our classrooms were filled with young children, some of them siblings and many others first-time visitors, from toddlers right up to next year's kindergarteners.   They poured in to join us for projects and activities –all with a Chanukah twist, of course — led by our faculty in Science and Art or Open Play, after which we gathered to celebrate together.  As Noam, one of our 3 year old guests, put it, "I want to stay here all day!"
This gathering is one of a series of events we are excited to host, geared towards young families, with children aged 0-5.  Our next celebration, in anticipation of Tu B'Sh'vat, will be taking place on January 26th, from 10:00-11:30 am. Our wonderful faculty will once again be sharing creative and fun activities, and it promises to be a lively morning filled with plants, snacks, and Jewish surprises.
Why are we reaching out especially to such young children? We want to make sure that we are serving our entire community.  Research has shown that when families are ready to apply for kindergarten, they look at schools they already know about. They want to think about their choices well before that, and that's when we want to get to know them.  We're eager to introduce them to the exciting things going on at Schechter Manhattan now, even before Kindergarten applications are on the horizon.
In addition to events geared towards a younger age, several winter and spring programs will offer elementary and middle school aged families a chance to get to know our school.  Look out for our Middle School Group Tours on February 4th and March 30th, and our Grades 1-5 Group Tour on April 1st.
Our parents already know all of the wonderful things about being part of the Schechter community, so please continue to help in spreading the word and tell your friends to come and join us.
Wishing everyone a wonderful and restful break, and a joyful Chanukah!
https://www.schechtermanhattan.org/wp-content/uploads/2020/01/rsz_dsc_0618.jpg
532
800
Kevin Sterling
https://www.schechtermanhattan.org/wp-content/uploads/2021/11/schechter-manhattan-logo-2021.svg
Kevin Sterling
2019-12-19 16:28:55
2020-01-23 16:33:18
Sharing Schechter Manhattan with the Entire Community