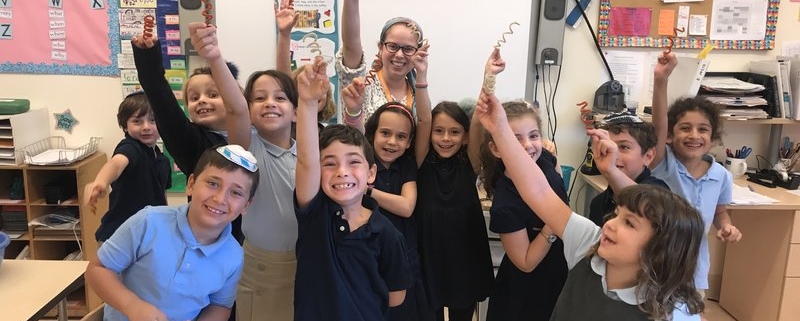 We have reached the time of the year when daylight is short and it gets dark out in the very early evening.  In the middle of the Jewish month of Kislev I am grateful that Chanukah is approaching, when we will light the candles of the chanukiah to bring light into these long dark nights. Lighting up the darkness also serves as a metaphor for bringing good things into the world. I believe that Schechter Manhattan brings light to our students, their families, and the larger world.
Schechter Manhattan shines the light of understanding to students, as they engage with learning actively to develop their ideas and build their skills. Schechter Manhattan directs the light of the Torah's wisdom onto our students' lives, providing opportunities to ask deep questions of the tradition and to discover ways that Jewish heritage can affect them as human beings. Schechter Manhattan radiates the light of a caring community to our students, families, faculty, staff, and trustees, who support one another and help lift each other up. And Schechter Manhattan ignites the light of Jewish identity in our students, creating rich Jewish experiences so that students can find and make Jewish commitments that are meaningful to them.
These lights, that make Schechter Manhattan so special and successful, are lit up through investment in distinctive aspects of our school program. Educational models like having two bilingual teachers in K-5 classes, differentiated learning so that each child is challenged or helped where needed, and low teacher-student ratios are expensive, but they offer our students an amazing education.  Moreover, we continue to be committed to providing this education to a wide set of families in the NYC Jewish community by way of generous financial aid. Overall, the tuition that comes in does not cover the full costs of educating all the students at Schechter Manhattan, and each year the light that Schechter Manhattan spreads in the world is sustained by many people who care about our mission and donate to support our school's annual fund.
Once again this Chanukah, a number of our supporters have stepped forward to lead us in strengthening Schechter Manhattan by pledging $100,000 as matching funds for the Chanukah appeal of our annual fundraising campaign. Our match donors are parents, grandparents, trustees, and alumni parents. I am truly inspired by each of these friends' dedication to Schechter Manhattan, Jewish education, and the future of the Jewish people. The Chanukah match will continue through the end of December, and during that time any gift to Schechter Manhattan's annual fund will be doubled!  Click here to access the Chanukah Match site and to donate. 
A special note for current Schechter Manhattan parents: We are seeking 100% parent participation in the Chanukah match. Please give at whatever amount you can.
When one of us lights a candle, it shines a small light. But when we all light candles together we create a shining beam. Every donation, of whatever amount, makes a positive difference to our school. Together, when we all contribute, we create the bright light that is Schechter Manhattan.
https://www.schechtermanhattan.org/wp-content/uploads/2019/12/rsz_kara_siegel_-_photo_sep_24_11_29_13_am.jpg
600
800
Kevin Sterling
https://www.schechtermanhattan.org/wp-content/uploads/2021/11/schechter-manhattan-logo-2021.svg
Kevin Sterling
2019-12-12 17:32:39
2019-12-17 17:36:38
Spread the Light of Schechter Manhattan: Give to our Chanukah Match to Support the Annual Campaign