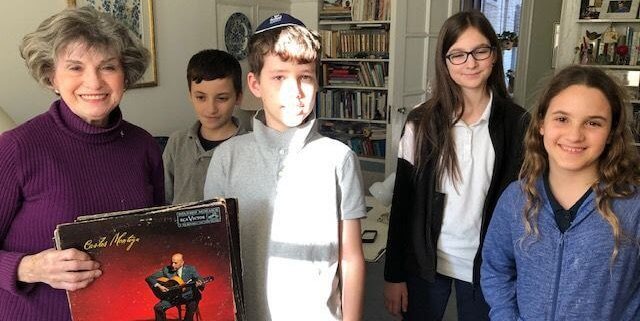 Yom Chesed: Strengthening Community by Helping Others
To create a vibrant, engaging, and supportive environment for Schechter Manhattan families.  I am inspired by this mission of the Schechter Manhattan Parents' Association.  Our amazing PA, led by Co-Presidents Asaf Kastner and Gila Ward Menda, brings our community together in powerful ways.  The PA welcomes new families when they join the school, leads fun activities like the recent Chanukah Candle Lighting and upcoming Family Fun Night, organizes helpful  programs for families like hot lunch and mishloach manot, gathers parents for meaningful dialogue in the Book Club and Conversations About Race, and expresses gratitude to the faculty and staff with gifts and lovely notes of thanks.
In addition to all of this, the PA encourages us to live our Jewish value of caring for others and join them in acts of lovingkindness, גמילות חסדים, gemilut hasadim.  This coming Monday, January 18, MLK Day, the PA has planned the annual Yom Chesed. Yom Chesed is a day of service where the Schechter Manhattan community performs a series of chesed (acts of kindness) initiatives. This year, the PA leaders have planned for Yom Chesed to take place over Zoom, so that we can gather together virtually.  Special thanks to Erica Cohen, the Schechter Manhattan parent leading the event.  We will hear from organizations committed to social services about the work they are doing and then we'll participate in "Lifeline Letters," an initiative where we'll write letters to people who may be experiencing isolation and need support.
Yom Chesed also honors the memory and legacy of Dr. Martin Luther King Jr. and his emphasis on and fight for economic justice.  PA Co-President, Asaf, told me how important it is to mark MLK Day in this way.  "MLK Day has become a day of service, and it's important to remember that in addition to championing racial justice he also focused on the fight against poverty and economic injustices in this country."
Please join us on Monday, January 18, at 10:30 AM.  Parents already have the Zoom link, and other family and friends of Schechter Manhattan who want to join us can email paevents@schechtermanhattan.org to get the details.  Together we will extend the kindness of Schechter Manhattan out into the larger community.
https://www.schechtermanhattan.org/wp-content/uploads/2021/01/unnamed.jpg
480
640
alia
https://www.schechtermanhattan.org/wp-content/uploads/2021/11/schechter-manhattan-logo-2021.svg
alia
2021-01-14 14:38:29
2021-01-14 14:38:29
Yom Chesed: Strengthening Community by Helping Others