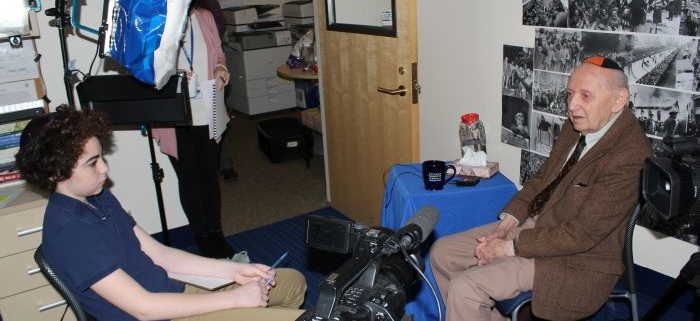 Memories and Messages: An Intergenerational Evening
Wednesday, May 22, 2019 7:15pm – 9:00pm
Marlene Meyerson JCC Manhattan
Join us for the presentation of a documentary film and book in memory of the Shoah, produced and written by the 8th graders at Schechter Manhattan. Read more details about this powerful project in this week's column below.  Space for this exclusive, first-time screening and book release is limited. Admission is free to the community.
Understanding the Shoah through Oral History
By Gary Pretsfelder, Principal
This past January, I sat in the back of a room at school, behind studio lights and a video camera, and listened as one of our 8th graders posed a question to Vera Eden, a 92 year old Holocaust survivor, about her train ride from Munkacs, Hungary to the now infamous concentration camp, Auschwitz.  Vera described the three days in the packed cattle car, with clarity as if it happened yesterday. She recalled that it was so crowded that "passengers" took turns sitting and standing and that there was one pail in the corner which everyone used as a bathroom.  I listened, aware that this almost unbelievable story about a 16 year old Jewish young girl was being shared with a young Jewish teenager decades later and worlds apart. I tried to imagine how Vera and this young boy were experiencing this inter-generational moment.  A 92-year-old woman. A 13-year-old boy. Two generations in dialogue.
Educators ask themselves all the time, how do we make learning meaningful?  What can we do to help students make a personal connection between what happened in the past and what happens in the future?   The powerful exchange described above is one way, and it was made possible this year at our school with the help of two inspiring educational organizations. Names Not Numbers©provides an enduring way to teach the lessons of the Holocaust by having students participate in the production of their own oral history documentary. Facing History and Ourselves helps students learn about hatred and bigotry so they can stop them from happening in the future. These two groups have guided our 8th graders since October in an interactive project that has given them the opportunity to talk with Holocaust survivors, hear their stories and messages, and engage the memories and lessons of the Shoah.  In response to these exchanges, our students are producing a documentary film and book that share the stories of the survivors and reflections of the students.
For years, our middle school students have participated in a 3-year curriculum on the Holocaust, beginning with the exploration of pre-war Germany and ending with confronting the horrible truths of the Final Solution.  The units, in addition to the commemoration of Kristallnacht in November and a day of remembrance on Yom HaShoah, have been the foundation of our Holocaust education in our upper grades.  This year, Names Not Numbers© and Facing History have offered our students an opportunity to engage eyewitnesses in the study of history and, as significantly, to empower our 8th graders–the last generation who will hear first person accounts of the Shoah– to share these lessons with others.  In the work they have done over the last six months, our students have focused particularly on the messages of these survivors, and by doing so they have gotten to view themselves as an important link in a chain of history, as well as the transmitters of these survivors' legacy.
Like many types of learning at Schechter Manhattan, this project asked our students to guide the conversation, to actively develop a product, and then to share it with an authentic audience.  Along the way, our 8th graders learned about oral history, developed interviewing techniques, did internet research, honed editing skills, gained documentary and film editing skills, all while working with professionals – a journalist, a filmmaker, a number of educators and a community Rabbi.  At its core, however, this project animated our young teens in confronting the lessons of history, listening to difficult stories, and taking on the responsibility of sharing these messages.
One student wrote:  "I have never had the experience to have a one-on-one talk with someone who went through the Holocaust before…There is really no good way to describe in words how this experience affected me."  And another commented: "[Her] message to our generation was to stay strong and resist anti-Semitism…As a Jewish teen growing up in New York I have already been affected by anti-Semitism and I think that this is an important message to share and believe in. "
Our 8th graders are presently finishing up the last production phases of their film, Names Not Numbers©, A Movie in the Making, and the publishing process for their book, Pathways to a Future: Memories and Lessons from the Shoah.  They will have the opportunity to share both projects with our school and the wider community at an intergenerational evening on Wednesday, May 22 at the JCC of the Upper West Side.  I hope you will join us so you can meet the survivors and our students, and hear from them how the interaction between two generations has produced enduring learning and hope for the future.
Shabbat Shalom,
Gary Pretsfelder, Principal
https://www.schechtermanhattan.org/wp-content/uploads/2019/09/IMG_5281.jpg
467
700
Amira Agha
https://www.schechtermanhattan.org/wp-content/uploads/2021/11/schechter-manhattan-logo-2021.svg
Amira Agha
2019-04-12 21:07:29
2019-09-23 16:43:42
Understanding the Shoah through Oral History