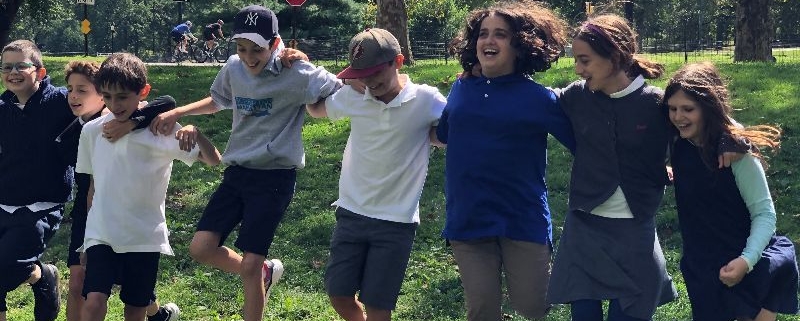 This week's Reflections are from Schechter Manhattan Board President Julie Sissman's remarks at this week's Curriculum Night.  Please email Julie at [email protected] if you'd like to be in touch.
______________________________________________
This is such an exciting moment to be a part of the Schechter Manhattan community!
I want to share two highlights of why I think it's an exciting moment to be a part of the Schechter Manhattan community, and to ask for your help in moving forward in one area.
First, this is an exciting moment to be a part of this community because of our excellent team.
We are very lucky to have Ben Mann as our Head of School.  Ben is an educational visionary and leader, and he has worked with the Educational Leadership Team, faculty, staff and the Board of Trustees to create a dynamic culture of ongoing continuous improvement at Schechter Manhattan.  This is such a thoughtful place. Whether it be the new, clearer rubric rolled out last year for student reports in 3-5th grades, or additional STEAM components in various grades' curricula this year, or the Admissions Office's new Outreach Committee and activities based on feedback from last year, or even, as Ben told us a few weeks ago, the thought that went into rearranging our office spaces, Schechter Manhattan is a place of reflection, inquiry, data review, critical thinking, action planning, piloting new things, and then starting the whole process again.
One of the things I love about this process that happens with all the aspects of the organization is that it mirrors the work and processes that our teachers ask of our children.  Our kids learn these same, important 21st century skills:  reflection, inquiry, data review, critical thinking, action planning, piloting, and starting the process again.  To be a part of an organization that works to align itself in that way is a gift for our students – and a gift for me, working with the professional leadership.
Please join me in thanking Ben, the Senior Staff, the Educational Leadership Team, all of the faculty, and the whole staff for creating this incredible purpose-driven environment in which our children can really thrive.
Here's the second highlight I wanted to share: this is also an exciting moment to be a part of Schechter Manhattan because of our growing connections with the broader community.  Our beautiful new logo and website embody and reflect Schechter Manhattan's stated mission. Rabbis from synagogues around NYC come in to meet and teach our students. Our programming is in partnership with the JCC and other community organizations, while our students consult with city planners and engineers as they design their STEAM projects.  This is a time of raising the profile of Schechter Manhattan in the community and connecting our school more and more with the fabric of New York City life.
This is an amazing community.  This community is a large part of why I'm willing to serve as Board President – because I get to work with so many of you.  Last year, over 70% of parents volunteered in some way, and many other alumni parents, alumni, grandparents, and members of the broader community volunteered with us, also.  In addition, last year, 93% of parents donated to the school beyond the tuition we all pay. Those numbers are very impressive, and quite rare in the independent school world.   Thank you to each and every one of you for making that possible – and if it's not too bold, I'd like to thank you in advance for keeping those numbers high this year!
There's one very specific area where I'd love your help.  The amazing educational and Jewish communal experiences at Schechter Manhattan could be available to even more children and families, because, as you know, not all of our classes are full.  It is our school's mission to deliver this thoughtful, inquiry-driven, education to as many Jewish children as we can. And our children benefit from the rich social and academic opportunities afforded from having new kids join their classroom communities.
So, as the board leadership looks at ways to strengthen Schechter Manhattan, the specific place I am asking for help this year is outreach and admissions, for kindergarten especially, but for other grades, too.  We're told by experts in the field that the best way to get new students is through word of mouth; that means happy kids and parents who let the people around them know that they love their school. And for that, you-all are our best ambassadors.
Please let your friends, your former pre-school director, your rabbis, your neighbors, your colleagues – let the folks in your networks know what a unique place this is.  Talk to them in person, post on social media, forward emails, post flyers.
Ask them to come visit, to come see the school for themselves.  They may well fall in love with the school, as I know many of you did.  As I did.
Let them know that in addition to kindergarten being a year of nurtured growth and deep learning, students also join us really successfully in the middle of elementary school or in middle school – even students who  don't yet have strong Hebrew or Judaics backgrounds.
Let them know that this is a place that helps kids dare to be themselves, to paraphrase the wonderful video on the website's homepage – where children and their parents thrive and find a sense of home.
Let them know that our graduates go on to the most prestigious high schools in NYC and are impressively confident and articulate about the world, their Jewish identities, and how Schechter Manhattan was instrumental in putting them on that path.
Please be bold in inviting your friends, in spreading the word, in sharing ideas with Andrea Brustein, Outreach Committee Chair. You can have a big impact here, and we need your help.
I'm so proud to be president of this amazing school that combines personalized, academic excellence with a nurturing and Jewish-values infused environment.  I'm happy to be serving all of you in this exciting moment in the school's history, and I'm grateful to be working with so many of you. So — remembering that amazing 70% of our parents who volunteered their time for Schechter Manhattan last year — I want to end with more thank yous.
Thank you to the members of the Board of Trustees.  Thank you to the PA Board, and to everyone who chairs or chaired a committee.  Thank you to everyone who helps organize PA activities or events, or who serves on a committee.  And to all of you who have ever volunteered in any way for Schechter Manhattan, or who are looking forward to doing so this coming year, thank you!   You are all part of what makes Schechter Manhattan so wonderful, and makes me so excited to begin this year.

Julie Sissman
Board President
https://www.schechtermanhattan.org/wp-content/uploads/2019/09/9c6890d4-d0e8-4cc4-8b24-adc545c000cd.jpg
600
800
Kevin Sterling
https://www.schechtermanhattan.org/wp-content/uploads/2021/11/schechter-manhattan-logo-2021.svg
Kevin Sterling
2019-09-27 17:31:33
2021-08-04 17:20:00
Curriculum Night 2019: President's Message