Schechter Manhattan fourth and fifth-grade students showed their support for Ukrainian people during a Q&A session with Snizhana Marianova, a tour guide at the L'viv office of the Cobblestone Freeway Foundation.
Marianova shared the details of her four-day journey from a suburb of Kyiv to Poland with three friends – one who is six months pregnant – along with four young children, and three dogs.
"Our supplies came to an end after three days in the traffic jam. We didn't have any water … there were no volunteers at that part of the road. The kids were asking for food," Marianova said.
A helpful person in the traffic jam shared about a shop located one kilometer from the road. After making it to the shop and seeing the lack of resources, she sat on a bench and cried for a while. "There were only sweets … no soup, no nothing, no bread."
When Marianova made it back to the traffic jam, she saw a car with its doors open and people were giving out snacks. "I got some baby food – smashed potatoes and carrots in a jar."
Marinova's story prompted the students and faculty at Schechter Manhattan to organize a school-wide initiative to raise funds for the Cobblestone Freeway Foundation. Her organization pivoted from being a travel company to provide direct relief to families in Ukraine who need immediate support.
"We buy diapers for kids, we buy baby formula, we buy pajamas, we buy warm clothes. It is Spring, but it is still not warm in Ukraine. The first thing [people] saw in their apartment, they just grabbed it. They didn't think much about what they could take with them," said Marianova.
Students held a brainstorming session to examine ways to spread the word and have begun to make posters and flyers to hang around the school building.
Marianova is grateful for the support she received when she arrived in Poland. "It's horrifying to see what is going on. Ukraine's biggest cities are smashed down. I don't know how many years it will take to restore them. It's very scary."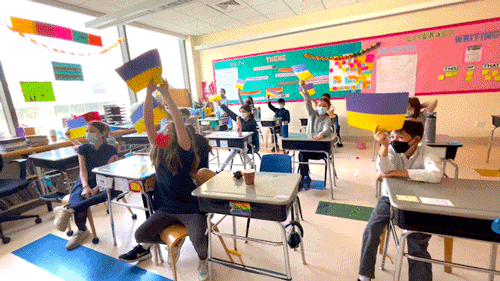 To learn more about the Schechter Manhattan initiative to support the Cobblestone Freeway Foundation, please email Tymothy Jaddock, Institutional Advancement Coordinator, at [email protected].
To learn more about Cobblestone Freeway, please visit https://cobblestonefreeway.ca/support-ukraine-fund/.
---
Schechter Manhattan is an independent K-8 Jewish day school on the Upper West Side committed to academic excellence and the social, emotional and intellectual development of every child. For over 25 years, Schechter Manhattan has made equal access to academic excellence a priority, emphasizing children's social, emotional, and intellectual development within a diverse community. Through a rigorous interdisciplinary curriculum, Schechter Manhattan has a long-standing track record of student placement at leading private and public high schools and colleges. Prior knowledge of Hebrew and Judaics is not required. Schechter Manhattan is chartered by the New York State Board of Regents and accredited by the New York State Association of Independent. Schechter Manhattan graduates confidently go forth to meet the intellectual, social, and moral challenges that lie ahead, poised not only to do well in life but also to do good in the world. For additional information, please visit schechtermanhttan.org/discover.
https://www.schechtermanhattan.org/wp-content/uploads/2022/03/Support-4-Ukraine.png
718
1118
mimi
https://www.schechtermanhattan.org/wp-content/uploads/2021/11/schechter-manhattan-logo-2021.svg
mimi
2022-03-10 13:54:07
2022-03-11 12:54:44
Schechter Manhattan Students Rally Support for Ukraine